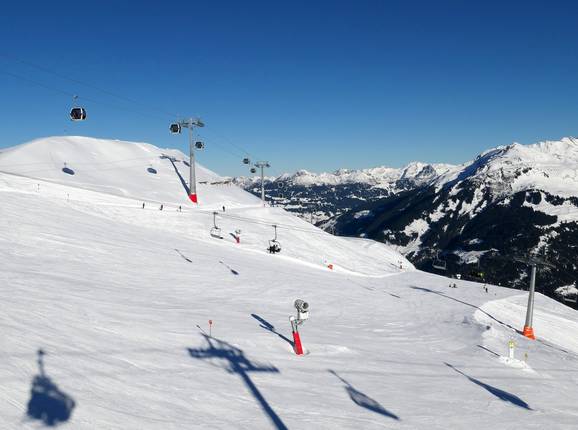 Runs/​ski slopes Silvretta Montafon

The ski resort of Silvretta Montafon impresses with a perfect mix of runs of all difficulty levels: from sporty slopes to expansive powder snow areas and gentle inclines. The ski landscape in Silvretta Montafon consists mainly of wide runs on treeless slopes. The various valley runs lead through forest glades or over wide alpine meadows. The Hochjoch and Nova areas of the ski resort are connected by the Grasjochbahn lift.

Runs/slopes
Total: 140 km
| | |
| --- | --- |
| Easy | 60 km |
| Intermediate | 50 km |
| Difficult | 30.3 km |
Worth knowing
Artificial snow-making
610 Snow cannons
66 % of the slopes have snow-making capabilities
Valley run available
Valley runs with snow-making capabilities lead to St. Gallenkirch (Garfrescha and Valisera), to the Silbertal, to the Hochjochbahn lift in Schruns and to Gaschurn (since 2021). There is no valley run to the Zamangbahn lift in Schruns. There is no slope leading down from the Grasjoch to the valley in St. Gallenkirch. A variation can be accessed using a via ferrata route (mountain guide strictly recommended).
Run location
above tree line
under tree line
Longest run
Hochjoch Totale · Length 12 km · Elevation difference 1700 m
The HochjochTotale run is the longest continuous valley run in Vorarlberg with a 1,700 metre descent.
Most difficult run
Slope number 44 · Length 1.6 km · Elevation difference 450 m
Slope tip
Slope number 42
Slope number 33
Slope number 21
Suggested routes through ski resort
Montafon Totale - From Gaschurn to Schruns and back
Montafoner Höhenrausch - The most beautiful viewpoints
Snowparks
Snow park/Fun park
No halfpipe
Highlights
Speed measurement course offered - free of charge
Valisera 20a
Public race course with time measurement - free of charge
Spatla (Nova), Platina (Hochjoch)
Additional Offerings
Alpine breakfast - Adventure night - Torch-lit hike - Freeride adventure day - Freeride experts - Freeride safety check - Pedestrian safari - Zamangspitze summit attempt - Hochjoch Totale - Ländle Früah Sport - Montafone Totale - Night tobogganing - Nova Exclusive - Park tour - Drive a snowcat - Rodizio. Dates and conditions can be found on the ski resort website.
---
---
Feedback for the Skiresort.info Team? Please use
this form »
Test Reports

---

---
All test reports