Ski resorts Montafon
List and map of all 5 ski resorts in the Montafon
---
Planning an active winter holiday by yourself, as a couple or with your family? Then let us introduce you to the Montafon valley. Anything you could possibly wish for is right here. Endless slopes in a breathtaking alpine setting for both Alpine and cross country skiing as well as snowboarding. Highlights include the HochjochTotale, the longest downhill ski run in Vorarlberg, the Nike Snowpark Montafon, one of Europe's best XXL snow parks, the Diabolo Race on the Golm, the Madrisa round trip in Gargellen and the Silvretta ski safari. In fact Montafon has just about everything to enjoy a genuine mountain experience.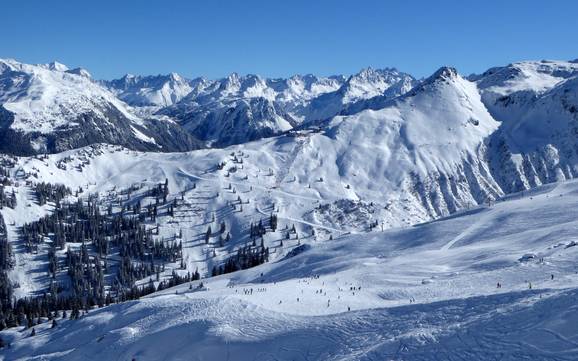 Skiing in the Montafon
In the list of the best ski resorts in the Montafon, the ski resort Silvretta Montafon is top with 4.6 out of 5 stars. The largest ski resorts offer up to 140 kilometres of slopes (Silvretta Montafon). The highest ski resorts for skiing in the Montafon extend up to an altitude of 2,430 metres (Silvretta Montafon).
---