Moving Carpets – People movers
The revolution in ski instruction: Sunkid Moving Carpets and people movers, small ski lifts, Rotondo Carousel, Sunny Stuff, etc.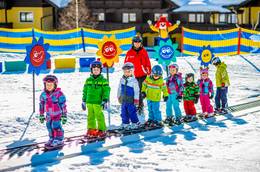 A Revolution in Ski Instruction
With the development of Sunkid Moving Carpets, Sunkid revolutionized ski instruction.
Sunkid was founded by a group of leading lift companies and ski schools in 1996 that recognized the need to provide a new impetus to classic ski school instruction through safer and more comfortable lifts. Since then, the "Moving Carpet" has been enabling and facilitating the first attempts at skiing under the motto: "Fun in the snow with safety and comfort".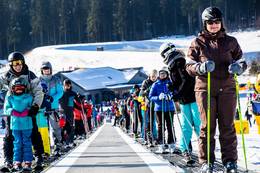 Sunkid Moving Carpet
The Sunkid Moving Carpet was originally implemented for use by small children. However, the tremendous advantages of this new type of lift were quickly recognized. In the years that followed, the lifts were made longer, more powerful and more comfortable.
Currently, over 3,700 Sunkid Moving Carpets have been successfully installed throughout the world and for many different applications.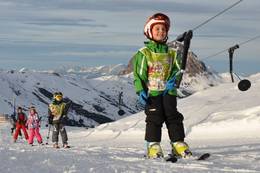 Sunkid Lifts
There are also over 4,000 Sunkid small ski lifts in operation throughout the world. These are in use as feeder and return lifts, on practice slopes, in funparks as well as in ski school areas.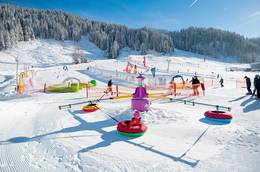 Sunkid Rotondo Carousel
As a complement to the lift offering, the Sunkid Rotondo Ski and Tubing Carousel was developed based on practical experience. It is utilised by ski schools as an instructional aid or as a tubing carousel simply for fun!!!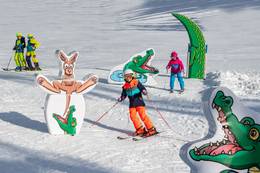 Sunkid Sunny Stuff
With the Sunny Stuff Programme, Sunkid offers the most modern ski school aids, foam figures, wild animal figures, 3D figures as cheerful decorations as well as new fun elements such as rails, loops and waves.
Additional information about the specialists for innovative recreational technology is available at www.sunkidworld.com
Contact
Sunkid GmbH
Industriezone 39
A-6460 Imst
Austria
Tel. +43/ 5412/ 68131