Route planner Saalbach Hinterglemm Leogang Fieberbrunn (Skicircus)
Access Saalbach Hinterglemm Leogang Fieberbrunn (Skicircus) & on-site parking
Saalbach-Hinterglemm and Leogang are located in the Pinzgau region in the middle of the province of Salzburg. However, Fieberbrunn is in Tyrol. The nearest motorways are around 40 to 70 kilometres away (Tauernautobahn, Inntalautobahn, A8 Munich-Salzburg). You can enter the Skicircus at many different points. There is sufficient free parking at the lifts in Saalbach-Hinterglemm, Leogang and Fieberbrunn. Holders of a valid ski pass can also park free of charge in the Kohlmaisbahn and Schattberg X-press lift car parks. A charge applies for the car parks in Hinterglemm and Leogang.

---
Access via
---
Mobility on-site
Comprehensive ski bus network
Scheduled buses
The ski pass entitles the holder to travel on the ski bus within the villages of Saalbach Hinterglemm, Viehhofen, Leogang, Fieberbrunn, Zell am See and Kaprun at no additional cost. As well as the links: Saalbach Hinterglemm - Viehhofen, Fieberbrunn - Leogang, Leogang - Saalfelden, Viehhofen - Zell am See und Zell am See - Kaprun.
---
Access via A10 Tauern Autobahn, Exit Intersection Pongau
52 km Distance - approx. 62 Minutes driving time
Destination
Steinbergbahn 1, Rain, 5771 Leogang-Rain, Austria
Ideal entry for day visitors
Parking spaces
usually enough available, gravel car park
free of charge
Roads
Main street, Side road, well-developed
Show route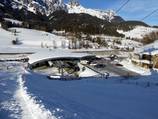 ---
65 km Distance - approx. 54 Minutes driving time
Destination
Schönleitenbahn, Vorderglemm 641, 5753 Vorderglemm, Austria
Ideal entry for day visitors
Parking spaces
usually enough available, tarmac car park, gravel car park
free of charge
Roads
Main street, Side road, well-developed
Snow chains sometimes required by snowfall
Road closure due to avalanches unlikely
Show route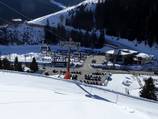 ---
73 km Distance - approx. 65 Minutes driving time
Destination
Westgipfelbahn, Schwarzacherweg, 5754 Hinterglemm, Austria
Entry suitable for day visitors
Parking spaces
limited amount available, gravel car park
free of charge
Roads
Main street, Side road, well-developed
Snow chains sometimes required by snowfall
Road closure due to avalanches unlikely
Show route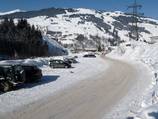 Access via A12 Inntal Autobahn, Exit Kufstein Sued (South)
41 km Distance - approx. 45 Minutes driving time
Destination
Doischbergbahn/Streubödenbahn, Lindau 17, 6391 Fieberbrunn, Austria
Ideal entry for day visitors
Parking spaces
enough available, tarmac car park, gravel car park
free of charge
Roads
Main street, Side road, well-developed
Show route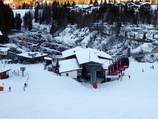 ---
55 km Distance - approx. 56 Minutes driving time
Destination
Asitzbahn, Hütten 39, 5771 Leogang-Hütten, Austria
Ideal entry for day visitors
Parking spaces
enough available, covered car park, tarmac car park
free of charge
Roads
Main street, Side road, well-developed
Snow chains sometimes required by snowfall
Road closure due to avalanches extremely unlikely
Show route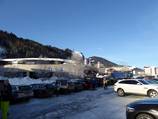 ---
85 km Distance - approx. 83 Minutes driving time
Destination
Schönleitenbahn, Vorderglemm 641, 5753 Vorderglemm, Austria
Ideal entry for day visitors
Parking spaces
usually enough available, tarmac car park, gravel car park
free of charge
Roads
Main street, Side road, well-developed
Snow chains sometimes required by snowfall
Road closure due to avalanches unlikely
Show route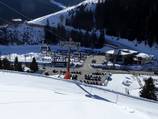 Access via Autobahn A8 Munich-Salzburg, Exit Traunstein/Siegsdorf
71 km Distance - approx. 69 Minutes driving time
Destination
Steinbergbahn 1, Rain, 5771 Leogang-Rain, Austria
Ideal entry for day visitors
Parking spaces
usually enough available, gravel car park
free of charge
Roads
Main street, Side road, well-developed
Show route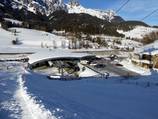 ---
81 km Distance - approx. 74 Minutes driving time
Destination
Schönleitenbahn, Vorderglemm 641, 5753 Vorderglemm, Austria
Ideal entry for day visitors
Parking spaces
usually enough available, tarmac car park, gravel car park
free of charge
Roads
Main street, Side road, well-developed
Snow chains sometimes required by snowfall
Road closure due to avalanches unlikely
Show route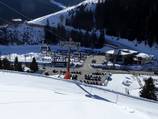 ---
89 km Distance - approx. 84 Minutes driving time
Destination
Westgipfelbahn, Schwarzacherweg, 5754 Hinterglemm, Austria
Entry suitable for day visitors
Parking spaces
limited amount available, gravel car park
free of charge
Roads
Main street, Side road, well-developed
Snow chains sometimes required by snowfall
Road closure due to avalanches unlikely
Show route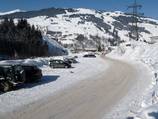 Access via Autobahn A8 Munich-Salzburg, Exit Bad Reichenhall
57 km Distance - approx. 60 Minutes driving time
Destination
Doischbergbahn/Streubödenbahn, Lindau 17, 6391 Fieberbrunn, Austria
Ideal entry for day visitors
Parking spaces
enough available, tarmac car park, gravel car park
free of charge
Roads
Main street, Side road, well-developed
Show route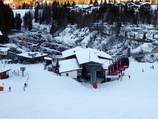 More Entry point(s) to the ski resort
---
---
---
---
---
---
Destination
Hochalmbahn, Glemmtaler Landesstraße 446, 5754 Hinterglemm, Austria
Access to ski resort
Town/village close to ski resort
Traffic Junction
---
All information is supplied without guarantee
The maps are provided by Google with the following information: "These directions are for planning purposes only. You may find that construction projects, traffic, weather, or other events may cause conditions to differ from the map results, and you should plan your route accordingly. You must obey all signs or notices regarding your route."
---
Feedback for the Skiresort.info Team? Please use
this form »
Test Reports

---

---
All test reports