Ski resorts Stubai
List and map of all 6 ski resorts in Stubai
---
The 35 km long Stubaital is located near Innsbruck, the capital city of Tyrol, with a connection to the Brenner Autobahn. It is surrounded by the Stubai Alps including 109 three thousand meter peaks and 80 glaciers. The highest and most well-known mountain – even through it is not accessible on skis – is the Zuckerhütl, which is 3,507 meters high.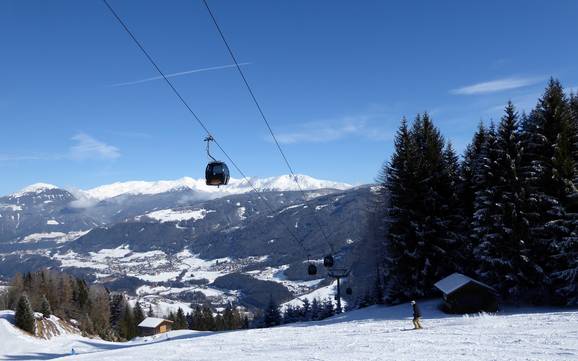 Skiing in Stubai
Ideal starting points for discovering this family-friendly and unspoilt valley are the five main villages of Neustift, Fulpmes, Telfes, Mieders and Schönberg. Skiers and snowboarders are enticed with multiple ski resorts in the Stubaital. The largest and highest winter sports resort is the Stubai Glacier, which transports visitors up to skiing and snowboarding slopes at over 3,000 m with modern lifts. The newest achievement here is the state-of-the-art Eisgrat lift. The triple circulating ropeway with cable cars designed by Pininfarina offers real leather seats, panorama windows and WLAN. You can ski on the Stubai Glacier from October until June. The next largest ski resorts in the Stubaital are the Schlick 2000 ski centre in Fulpmes, the Elfer in Neustift and the Serles lifts in Mieders. Children under 10 accompanied by a paying adult ski here free of charge. On as well as off the groomed slopes in the Stubaital, there are many events, cross-country trails, winter and snowshoe paths, toboggan runs, Alpine cultural experiences and conviviality for visitors to enjoy.
Highlights in Stubai
In the list of the best ski resorts in Stubai, the ski resort Stubai Glacier (Stubaier Gletscher) is top with 4.1 out of 5 stars. The largest ski resorts offer up to 65 kilometres of slopes (Stubai Glacier (Stubaier Gletscher)). The highest ski resorts for skiing in Stubai extend up to an altitude of 3,212 metres (Stubai Glacier (Stubaier Gletscher)).
---