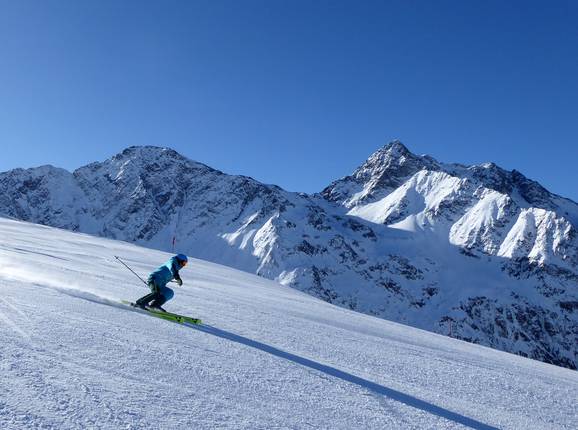 Runs/​ski slopes St. Jakob im Defereggental – Brunnalm

In the upper area of the ski resort, there are beautiful wide carving runs. Attractive black slopes start at the highest point in the ski resort at the new Leppleskofelbahn lift. Easy and intermediate slopes can be found at the Mooserbergbahn and Weißspitzbahn lifts. The slopes at the chairlifts are all located above the forest line. There are beautiful endless panoramic views of three thousand metre peaks. The two valley runs pass through a forested area - one run is intermediate and the other is difficult. In the valley, there are several easy slopes for practising.

Runs/slopes
Total: 23.7 km
| | |
| --- | --- |
| Easy | 5 km |
| Intermediate | 12.5 km |
| Difficult | 6.2 km |
Additional runs
A ski route leads from the Feistritzlift to the Hotel Defereggental without a lift connection
Worth knowing
Artificial snow-making
72 Snow cannons
95 % of the slopes have snow-making capabilities
Valley run available
A red slope and a black slope lead to the base station of the Brunnalmbahn lift.
Run location
above tree line
under tree line
Longest run
From the highest point in the ski resort (Leppleskofelbahn lift) down to the valley · Length 8 km · Elevation difference 1283 m
Most difficult run
Leppleskofel slope · Length 1.4 km · Elevation difference 433 m
Attractive black slope from the highest point in the ski resort alongside the Leppleskofel 6-person chairlift
Slope tip
Black slopes at the Leppleskofelbahn lift
Attractive black slopes start at the highest point in the ski resort near the mountain station of the Leppleskofelbahn lift.
Carving slopes at the Weißspitzbahn lift
The slopes at the Weißspitzbahn lift are very wide and ideal for perfect carving turns
Snowparks
Snow park/Fun park
No halfpipe
Highlights
Skiline
Ski day reproduced in internet (Lifts used, elevation meters and slope kilometers skied) - free of charge
---
---
Feedback for the Skiresort.info Team? Please use
this form »
Test Reports

---

---
All test reports