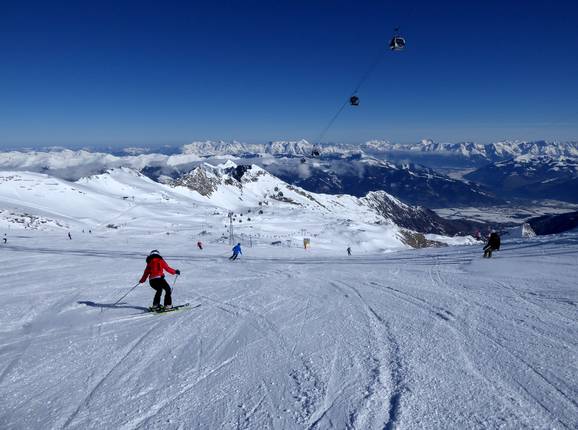 Runs/​ski slopes Kitzsteinhorn/​Maiskogel – Kaprun

The 3K K-onnection link from the Maiskogel to Kitzsteinhorn now opens up an even wider selection of slopes. There are runs of all difficulty levels on the Kitzsteinhorn, from wide, easy glacier slopes to a steep run, there is something for everyone. Ski routes and powder slopes complete the selection. Maiskogel has a great many very wide and easy slopes, which makes it ideal for families, beginners and ski schools. However, you can also find red and black slopes here. The valley run leads directly to Kaprun and is very wide.

Runs/slopes
Total: 61 km
| | |
| --- | --- |
| Easy | 29 km |
| Intermediate | 23 km |
| Difficult | 9 km |
Additional runs
Extensive freeride offering: 5 freeride routes close to lifts
Worth knowing
Artificial snow-making
Valley run available
There is no valley run on the Kitzsteinhorn. You can ski down to the Langwiedboden at around 2,000 metres. From there, you can then take the Gletscherjet down to the valley or the 3K K-onnection to the Maiskogel mountain station. From the Maiskogel, a valley run leads directly to Kaprun and finishes at the start of the MK Maiskogelbahn lift.
Run location
Glacier
above tree line
under tree line
Longest run
Kitzsteinhorn summit-Langwiedboden · Length 5 km · Elevation difference 1051 m
You can ski continuously from the mountain station of the Gletscherjet 4 to the Langwiedboden.
Maiskogel (Almbahn)-base station Kaprun · Length 7 km · Elevation difference 962 m
From the mountain station of the Almbahn lift on the Maiskogel, you can ski all the way down to the valley in Kaprun
Most difficult run
Black Mamba (number 14) · Length 1 km · Elevation difference 290 m
The Black Mamba has gradients of up to 63% and is very steep. It starts at the base station of the Kristallbahn lift and ends on the Langwiedboden.
Slope tip
Kristallbahnabfahrt runs (number 10 and number 12)
The Kristallbahnabfahrt runs are beautifully long and the comfortable lift makes them ideal to repeat.
Maurergletscherabfahrt 5b slope
The Maurergletscherabfahrt 5b slope is difficult but is ideal for any confident skier who appreciates a sporty run.
Schmiedingerpiste 3a slope
A great slope for carving! The Schmiedinger 8-person chairlift takes you comfortably up the mountain.
Saulochpiste 32 slope
The beautifully wide slope starts at the Almbahn lift on the Maiskogel.
Snowparks
Snow park/Fun park
Halfpipe
Highlights
Speed measurement course offered - free of charge
Speedcheck Kristallbahn & Speedcheck Maiskogel-Eisbär
Public race course with time measurement - free of charge
At the Kitzlifts in the glacier area
Skiline
Ski day reproduced in internet (Lifts used, elevation meters and slope kilometers skied) - free of charge
SkiMovie
create and download your own ski video - free of charge
Skimovie giant slalom course at the Kitzlifts
Additional Offerings
K-ONNECTION CUP, Photopoint Top of Salzburg & Ice Camp on the Kitzsteinhorn
---
---
Feedback for the Skiresort.info Team? Please use
this form »
Test Reports

---

---
All test reports