Route planner Kitzsteinhorn/Maiskogel – Kaprun
Access Kitzsteinhorn/Maiskogel – Kaprun & on-site parking
The ski resort is located in the Zell am See-Kaprun holiday region and can be accessed by motorway from Wörgl, Siegsdorf (no tolls via Germany) and Bischofshofen. The nearest motorway is around 50 kilometres away (Bischofshofen). In the 2019/2020 season, a continuous cable car link was introduced from Kaprun via the Maiskogel to the Kitzsteinhorn. This makes it possible for visitors to enter the ski area either directly in Kaprun or at the glacier lifts. In Kaprun, the base station of the MK Maiskogelbahn lift is located directly at the outskirts of the town in the Kaprun Center. From Kaprun, a 7 kilometre drive along a mountain road takes you to the glacier lifts (Gletscherjet 1/Panoramabahn) from Kaprun. Free parking is available at both entrance points. Holidaymakers can take advantage of free ski buses in Zell am See and Kaprun.
---
Winter Closure
The Großglockner High Alpine Road is closed in winter.
---
Access via
---
Mobility on-site
Comprehensive ski bus network
Scheduled buses
An extensive bus network links the ski resort to the towns of Kaprun and Zell am See - travel is free of charge for passengers with ski passes and ski equipment. A valid ski pass also allows you to use the Pinzgauer Lokalbahn train free of charge to travel to and from the resort.
---
Access via A10 Tauern Autobahn, Exit Intersection Pongau
51 km Distance - approx. 45 Minutes driving time
Destination
MK Maiskogelbahn, Kitzsteinhornplatz 1a, 5710 Kaprun, Austria
Ideal entry for day visitors
Parking spaces
usually enough available, tarmac car park, gravel car park
free of charge
Roads
Main street, Side road, well-developed, without significant incline
Snow chains almost never required by snowfall
Road closure due to avalanches unlikely
Show route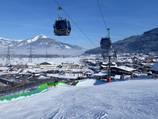 ---
57 km Distance - approx. 53 Minutes driving time
Destination
Kitzsteinhorn Gletscherjet 1, Kesselfallstraße, 5710 Kaprun, Austria
Ideal entry for day visitors
Parking spaces
enough available, tarmac car park
free of charge
Roads
Main street, Side road, well-developed, with significant incline
Snow chains sometimes required by snowfall
Road closure due to avalanches unlikely
Show route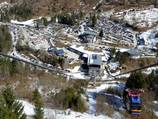 Access via A12 Inntal Autobahn, Exit Woergl Ost (East)
81 km Distance - approx. 82 Minutes driving time
Destination
MK Maiskogelbahn, Kitzsteinhornplatz 1a, 5710 Kaprun, Austria
Ideal entry for day visitors
Parking spaces
usually enough available, tarmac car park, gravel car park
free of charge
Roads
Main street, Side road, well-developed, with significant incline
Snow chains sometimes required by snowfall
Road closure due to avalanches sometimes possible
Show route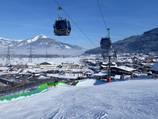 ---
87 km Distance - approx. 88 Minutes driving time
Destination
Kitzsteinhorn Gletscherjet 1, Kesselfallstraße, 5710 Kaprun, Austria
Ideal entry for day visitors
Parking spaces
enough available, tarmac car park
free of charge
Roads
Main street, Side road, Mountain road, well-developed, with significant incline
Snow chains sometimes required by snowfall
Road closure due to avalanches unlikely
Show route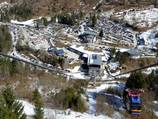 Access via Autobahn A8 Munich-Salzburg, Exit Traunstein/Siegsdorf
83 km Distance - approx. 80 Minutes driving time
Destination
MK Maiskogelbahn, Kitzsteinhornplatz 1a, 5710 Kaprun, Austria
Ideal entry for day visitors
Parking spaces
usually enough available, tarmac car park, gravel car park
free of charge
Roads
Main street, Side road, well-developed, with significant incline
Snow chains often required by snowfall
Road closure due to avalanches often possible
Show route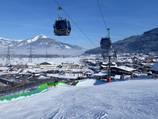 ---
90 km Distance - approx. 86 Minutes driving time
Destination
Kitzsteinhorn Gletscherjet 1, Kesselfallstraße, 5710 Kaprun, Austria
Ideal entry for day visitors
Parking spaces
enough available, tarmac car park
free of charge
Roads
Main street, well-developed, with significant incline
Snow chains sometimes required by snowfall
Road closure due to avalanches unlikely
Show route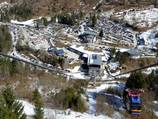 Access to ski resort
Town/village close to ski resort
Traffic Junction
---
All information is supplied without guarantee
The maps are provided by Google with the following information: "These directions are for planning purposes only. You may find that construction projects, traffic, weather, or other events may cause conditions to differ from the map results, and you should plan your route accordingly. You must obey all signs or notices regarding your route."
---
Feedback for the Skiresort.info Team? Please use
this form »
Test Reports

---

---
All test reports