Child-friendly rating/family-friendly rating Jasná Nízke Tatry – Chopok

Evaluated by Skiresort.info, the world's largest test portal for ski resorts.
The evaluation is done as follows
---
Children and families Jasná Nízke Tatry – Chopok/family offers Jasná Nízke Tatry – Chopok
The ski resort of Jasná is very family- and child-friendly. There are three children's areas (Maxiland). However, you need to have booked a ski lesson to be able to use these areas. There is also a Fun Zone and a burger restaurant for children. There are, of course, also play areas and separate children's entrances at the lifts in the ski resort.

---
Special offers for families Jasná Nízke Tatry – Chopok
Maxiland Biela Pùt
Maxiland Biela Pùt is the largest of the three Maxilands. It is centrally located at the Biela Pùt base station and is also floodlit in the evenings. It offers magic carpets, funny figures, playrooms and plenty of fun for the little ones.
---
Maxiland Lúčky
The Maxiland Lúčky is located at the base station of the new six-person Lúčky-Priehyba chairlift and it offers a magic carpet.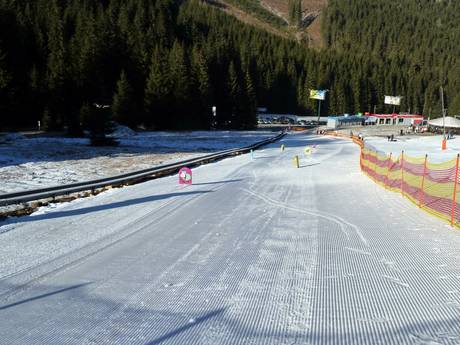 ---
Maxiland Krupová
Maxiland Krupová is located at the Krupová base station at 1080 m elevation. It offers a tow rope lift and plenty of room for the little ones to practice.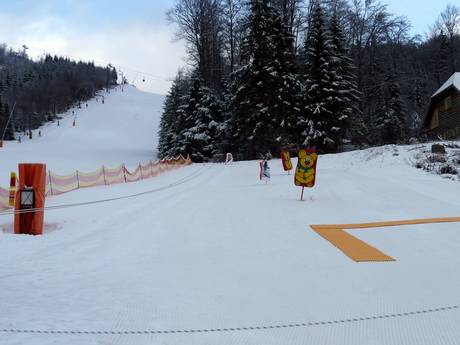 ---
Fun Zone Jasná
Fun Zone Jasná is a type of fun slope with waves, a tunnel and easy obstacles. It's ideal for the entire family.
---
Burger Restaurant Bernardino
Burger Restaurant Bernardino is located at the mountain station of the Grand Jet. While parents enjoy their burgers in peace, the little ones have fun in the play zone. Of course, the burgers are also a highlight for the kids.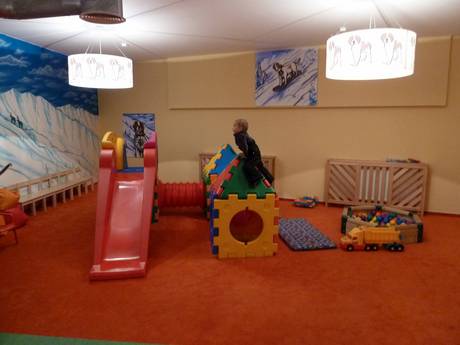 ---
Information for families and children
Children's area/separate area for children
Children's carousel
Wave run for children
Adventure course
Magic carpet/people mover
Children's lifts
Child friendly access to lifts
Ski kindergarten
Ski school for children
Playground/park
Mascot (Bomby & Edi)
---
Feedback for the Skiresort.info Team? Please use this form »
Select specific criteria
Top evaluation criteria
Further evaluation criteria
Evaluation criteria for special interests
Test Reports

---

---
All test reports