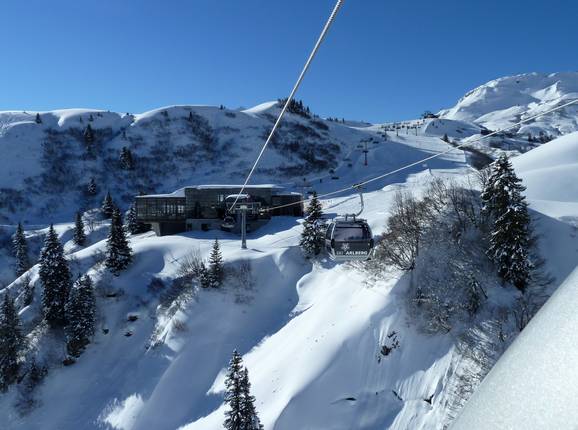 All lifts/​cable cars St. Anton/​St. Christoph/​Stuben/​Lech/​Zürs/​Warth/​Schröcken – Ski Arlberg

Directly to:
Since the combination of St. Anton am Arlberg/St. Christoph/Stuben and Lech/Zürs/Warth/Schröcken in the 2016/2017 winter season, the Ski Arlberg ski resort features almost exclusively modern lifts.

With the new Flexen 10-person gondola lift, the connection from Stuben (Alpe Rauz) to Zürs and back has been accomplished establishing a complete connection of the largest ski resort in Austria. The additional new 10-person gondola lifts, Albonabahhn II, Trittkopfbahn I and II, bring guests quickly up to the mountain stations.

Modern lifts and gondolas are available for guests in St. Anton am Arlberg, St. Christoph and Stuben. The highlight is the Galzig lift funitel with the Ferris wheel at the entrance. Investments are regularly made in order to present guests with new innovations.

The ski resort section surrounding Lech, Zürs, Warth and Schröcken primarily features modern ski lifts. Most of the chairlifts are equipped with weather protectors and seat heaters. Pommel lifts and practice lifts are also available near the base for beginners. Since the 2013/2014 season, the 10-person Auenfeldjet gondola lift connects the Lech/Zürs and Warth/Schröcken ski resorts. The Rüfikopf lifts in Lech can get pretty busy and there are sometimes waiting times for the lifts. The Schlosskopf lift and Albona lift I are on the list for modernization.

| | |
| --- | --- |
| Number of ski lifts | |
| Total capacity | 145568 Passengers/hour |
| Total lift length | 85.1 km Total |
---
2
80pers. Aerial tramway/Reversible ropeway
1
60pers. Aerial tramway/Reversible ropeway
1
45pers. Aerial tramway/Reversible ropeway
1
5pers. Aerial tramway/Reversible ropeway
1
24pers. Funitel - wind stable gondola lift with two parallel haul ropes at a distance
6
10pers. Gondola lift with seat heating (monocable circulating ropeway)
1
10pers. Gondola lift (monocable circulating ropeway)
1
8pers. Gondola lift with seat heating (monocable circulating ropeway)
2
8pers. Gondola lift (monocable circulating ropeway)
1
Combined installation (8 pers. chair and 10 pers. gondola) with seat heating
1
8pers. High speed chairlift (detachable) with bubble and seat heating
13
6pers. High speed chairlift (detachable) with bubble and seat heating
4
6pers. High speed chairlift (detachable) with bubble
4
4pers. High speed chairlift (detachable) with bubble and seat heating
4
4pers. High speed chairlift (detachable) with bubble
1
4pers. High speed chairlift (detachable)
4
4pers. Chairlift (fixed-grip)
11
2pers. Chairlift (fixed-grip)
New ski lifts
6pers. High speed chairlift (detachable) with bubble and seat heating
Length: 1520 m · Carrying capacity/hour: 2150
Manufacturer: Doppelmayr

Details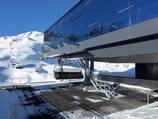 10pers. Gondola lift (monocable circulating ropeway)
Length: 1440 m · Carrying capacity/hour: 2400
Manufacturer: Doppelmayr

Details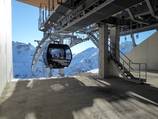 People mover/Moving Carpet
Length: 163 m · Carrying capacity/hour: 500
Manufacturer: Sunkid

Details
List of all current ski lifts
---
Test Reports

---

---
All test reports