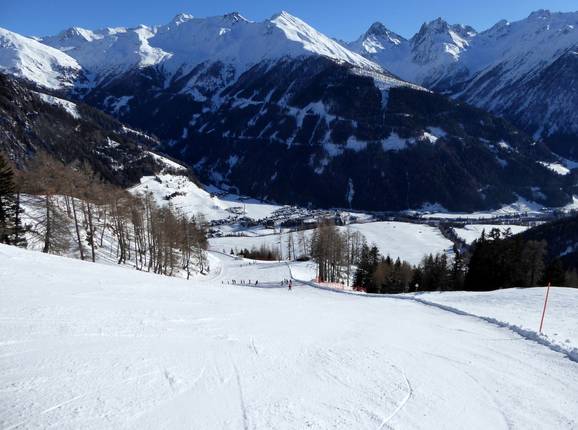 Runs/​ski slopes Großglockner Resort Kals-Matrei

There are runs of all difficulty levels in the Großglockner Resort Kals-Matrei, and a good balance of easy, intermediate and difficult slopes, with intermediate runs predominating. The view of sixty 3,000 metre peaks and Austria's highest mountain, the Großglockner (3,798 metres), is breathtaking.

Runs/slopes
Total: 42.5 km
| | |
| --- | --- |
| Easy | 9.5 km |
| Intermediate | 27 km |
| Difficult | 6 km |
Additional runs
There are difficult and groomed ski routes at the Kals II 8-person gondola lift.
Worth knowing
Artificial snow-making
205 Snow cannons
100 % of the slopes have snow-making capabilities
Valley run available
Valley runs with snow-making equipment lead to Matrei and Kals. The valley run to Matrei ends at the outskirts of Matrei. A ski bus takes visitors to the base station of the Goldried gondola lift or the village of Matrei. The valley runs to Kals lead directly to the lifts and the outskirts of the village.
Run location
above tree line
under tree line
Longest run
Cimaross-base (Matrei) numbers 10, 2, 1, 1a · Length 7 km · Elevation difference 1450 m
At the end of the valley run, the ski bus takes you to the base station of the Goldried lift
Most difficult run
Run number 12 on the Cimaross · Length 1.8 km · Elevation difference 450 m
Slope tip
Run number 2
Run number 20
Blauspitz slope number 17
Run number 13
Snowparks
Snow park/Fun park
No halfpipe
Highlights
Skiline
Ski day reproduced in internet (Lifts used, elevation meters and slope kilometers skied) - free of charge
---
---
Feedback for the Skiresort.info Team? Please use
this form »
Test Reports

---

---
All test reports