Route planner Belchen
Access Belchen & on-site parking
When coming from Freiburg/Karlsruhe, you exit the A5 at Bad Krozingen and then follow Landstrassen (country roads) through the Upper Black Forest. When coming from Basel, you exit the A98 at Loerrach and follow the Landstrasse to Schofpheim and Schoenau in the Black Forest. From Stuttgart, you travel via the A81 and exit in Bad Duerrheim. You then follow the B31 in the direction of Titisee. At Titisee, you follow the B317, which leads over the Feldberg and over the Todtnau to Aitern. After a short, steep pass, you will reach the Belchen gondola lift. Parking is free.

---
Access via
---
Mobility on-site
Small ski bus offering
Scheduled buses
You can access the base station directly with the Belchen bus from the Muenstertal (with train connection from Freiburg) and from Schoenau. During the week, there are limited connections. The bus circulates more often during the weekends.
---
Access via Ausfahrt A5, Basel-Frankfurt, Ausfahrt 64a, Bad Krozingen
36 km Distance - approx. 44 Minutes driving time
Destination
Belchenbahn, Belchenstr. 31, 79677 Aitern, Germany
Ideal entry for day visitors
Parking spaces
usually enough available, tarmac car park
free of charge
Roads
Main street, Mountain road, well-developed
Snow chains sometimes required by snowfall
Road closure due to avalanches extremely unlikely
Show route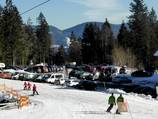 Access via Autobahn A81 Stuttgart-Constance, Interchange Bad Duerrheim
79 km Distance - approx. 69 Minutes driving time
Destination
Belchenbahn, Belchenstr. 31, 79677 Aitern, Germany
Ideal entry for day visitors
Parking spaces
usually enough available, tarmac car park
free of charge
Roads
Motorway, Highway, Side road, Mountain road, well-developed, with significant incline
Snow chains sometimes required by snowfall
Road closure due to avalanches extremely unlikely
Show route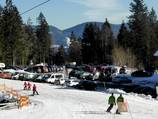 Access via Autobahn A 98 Basel Dreieck Weil am Rhein- Lörrach, Dreieck Lörrach
46 km Distance - approx. 49 Minutes driving time
Destination
Belchenbahn, Belchenstr. 31, 79677 Aitern, Germany
Ideal entry for day visitors
Parking spaces
usually enough available, tarmac car park
free of charge
Roads
Main street, Mountain road, well-developed, with significant incline
Snow chains sometimes required by snowfall
Road closure due to avalanches extremely unlikely
Show route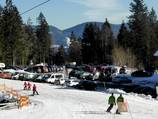 Access to ski resort
Town/village close to ski resort
Traffic Junction
---
All information is supplied without guarantee
The maps are provided by Google with the following information: "These directions are for planning purposes only. You may find that construction projects, traffic, weather, or other events may cause conditions to differ from the map results, and you should plan your route accordingly. You must obey all signs or notices regarding your route."
---
Feedback for the Skiresort.info Team? Please use
this form »
Test Reports

---

---
All test reports