Ski resorts Liechtenstein
List and map of all 3 ski resorts in Liechtenstein
---
At an altitude of 1.600 meters (5.250 ft) above sea level, the leisurely ski resort Malbun invites families and winter sports friends to enjoy exuberant activities in the snow. Its protected position surrounded by ski slopes and artificial snow canons makes the excellent holiday resort - which is awarded with the Swiss seal of quality "Families Welcome" - one of the best areas for guaranteed snow in the northern alps. Due to its clear overall view it is an ideal winter stamping ground for families and connoisseurs. The wide range of easy to challenging piste with a length of over 23 kilometers go up to an altitude of 2.000 meters (6.500 ft) above sea level.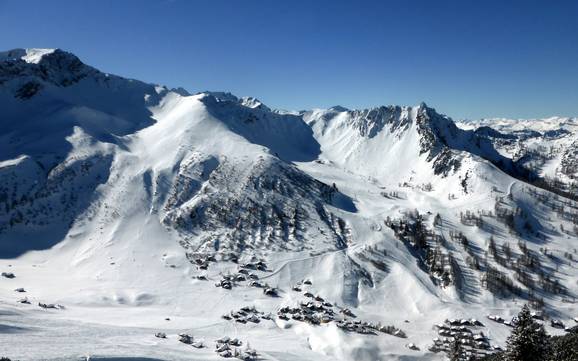 Skiing in Liechtenstein
In the list of the best ski resorts in Liechtenstein, the ski resort Malbun is top with 3.5 out of 5 stars. The largest ski resorts offer up to 23 kilometres of slopes (Malbun). The highest ski resorts for skiing in Liechtenstein extend up to an altitude of 2,000 metres (Malbun).
---