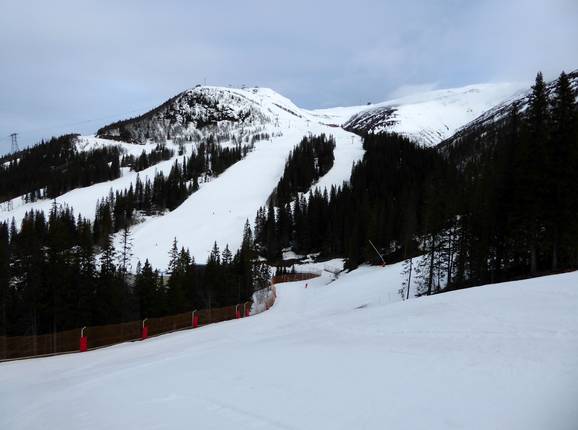 Runs/​ski slopes Åre

The majority of slopes in the ski resort of Åre are easy and intermediate. The only difficult slopes are situated directly below the Åreskutan. World Cup races are held here. All runs above around 900 metres are on wide, treeless slopes. All slopes below this lead down to the valley through forest glades. There is an almost even distribution of intermediate and easy slopes in the ski resort. The slopes become progressively easier the further you go from the Sadeln towards Björnen. The slopes are generally wide and offer fantastic views of the Åresjön lake.

Runs/slopes
Total: 91 km
| | |
| --- | --- |
| Easy | 45 km |
| Intermediate | 38 km |
| Difficult | 8 km |
Worth knowing
Artificial snow-making
60 % of the slopes have snow-making capabilities
Valley run available
The valley runs lead down to Åre at the Race Arena and directly to the village at Åre By. The slopes to Åre Björnen also take you directly to the parking areas in the valley.
Run location
above tree line
under tree line
Longest run
Åreskutan-Åre · Length 6.5 km · Elevation difference 894 m
The longest run in the ski resort of Åre leads from the summit of the Åreskutan over the easy slopes numbers 35, 49, 47, 50 and 48 to the valley at Åre By.
Most difficult run
Slalombacken · Length 0.9 km · Elevation difference 330 m
Slope tip
Lundsrappet
Gästrappet
Tvättbräden
Viksvängen
Järvbacken
Snowparks
Snow park/Fun park
No halfpipe
Highlights
Speed measurement course offered - free of charge
Rödkullen
Public race course with time measurement - free of charge
Åre Björnen
SkiMovie
create and download your own ski video - free of charge
MySkiStar video feature on the Rödbranten slope
Additional Offerings
Skicross Arena at the VM 6:an 6-person chairlift
---
Feedback for the Skiresort.info Team? Please use
this form »
Test Reports

---

---
All test reports