Ski resorts Schladming-Dachstein
List and map of all 8 ski resorts in Schladming-Dachstein
---
Between the grandiose south faces of the Dachstein and the Schladminger Tauern range, the 8 tourist spots of the Schladming Dachstein Region captivate with their boundless opportunities, Styrian hospitality, accommodations of all types, and a charisma all their own. 2013 the alpine ski world championships took place in the Schladming-Dachstein region.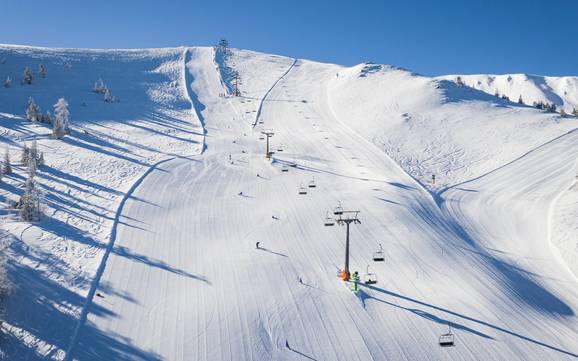 Skiing in Schladming-Dachstein
The heart of the ski region, the Schladming 4 Mountain Ski Area, unites the famous ski mountains of Hauser Kaibling–Planai Hochwurzen and the Reiteralm. Absolute insider tips for families: Fageralm, Stoderzinken, Galsterberg, Planneralm and Riesneralm.
97 ski lodges – and each greets you with its own individual charm. Whether big or small, with terrace, playground or a rustic fireside room – here with us, you, too, will find a mountain hut destined to become your personal favorite. »Out of the pan and into your heart« – how better to describe the culinary variety, creativity and Styrian tidbits that are brought to your table. In other words, the best of Styrian cooking – from farmhouse doughnuts with Styrian cheese to salad dressed with Styrian pumpkinseed oil.
Highlights in Schladming-Dachstein
In the list of the best ski resorts in Schladming-Dachstein, the ski resort Schladming – Planai/​Hochwurzen/​Hauser Kaibling/​Reiteralm (4-Berge-Skischaukel) is top with 4.7 out of 5 stars. The largest ski resorts offer up to 123 kilometres of slopes (Schladming – Planai/​Hochwurzen/​Hauser Kaibling/​Reiteralm (4-Berge-Skischaukel)). The highest ski resorts for skiing in Schladming-Dachstein extend up to an altitude of 2,700 metres (Dachstein Glacier (Dachsteingletscher)). And our tip for the best value for money is the ski resort Riesneralm – Donnersbachwald.
---