Route planner Val Gardena (Gröden)
Access Val Gardena (Gröden) & on-site parking
Val Gardena and its three villages (St. Christina/S. Cristina, St. Ulrich/Ortisei, Wolkenstein/Selva Gardena) is nestled in the Dolomites. From the north, access is via the Brennerautobahn motorway, exit Chiusa/Val Gardena (Klausen-Gröden). From the south, you exit the Brennerautobahn motorway at the Bolzano Nord (Bozen Nord) exit. From the Brennerautobahn motorway, it is then a 20 to 30 minute drive up a mountain road to Val Gardena and the lift base stations. Unfortunately, there is almost always a fee for parking. You can also travel easily and inexpensively to Val Gardena thanks to bus transfers running several times a day from Milano Malpensa (Milan), Bergamo Orio al Serio (near Milan), Verona Valerio Catullo, Munich and Innsbruck airports.
---
Winter Closure
The passes around Val Gardena are also kept open during the winter. However, temporary closures can occur during snowfalls.
---
Access via
---
Mobility on-site
Comprehensive ski bus network
Scheduled buses
Mobility has always been an important consideration in Val Gardena. Skiers can leave their cars parked in the garage and still enjoy easy and convenient access to the slopes. The valley ski bus runs every 15 minutes and is free of charge for Val Gardena Mobil Card holders. It runs less frequently during the pre-season and post-season. There is also the Val Gardena Night Bus.
---
Access via Brenner Autobahn, Exit Klausen-Groeden
20 km Distance - approx. 20 Minutes driving time
Destination
Sacun Strasse, 39046 Sankt Ulrich, Italy
Entry suitable for day visitors
Parking spaces
usually enough available, covered car park, tarmac car park, gravel car park
for a fee
Roads
Side road, Mountain road
Snow chains sometimes required by snowfall
Road closure due to avalanches unlikely
Show route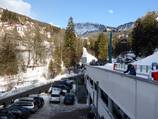 ---
25 km Distance - approx. 25 Minutes driving time
Destination
Saslong
Strada Ruacia 26, 39048 St. Christina, Italy
Ideal entry for day visitors
Parking spaces
usually enough available, tarmac car park, gravel car park
for a fee
Roads
Side road, Mountain road
Snow chains sometimes required by snowfall
Road closure due to avalanches unlikely
Show route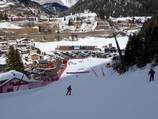 ---
27 km Distance - approx. 27 Minutes driving time
Destination
SS242, 39048 Wolkenstein, Italy
Entry suitable for day visitors
Parking spaces
limited amount available, underground car park, tarmac car park
for a fee, € 5,- / per day
Roads
Side road, Mountain road
Snow chains sometimes required by snowfall
Road closure due to avalanches unlikely
Show route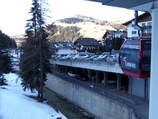 Access via Brenner Autobahn, Exit Bozen Nord (Bolzano North)
31 km Distance - approx. 31 Minutes driving time
Destination
Sacun Strasse, 39046 Sankt Ulrich, Italy
Entry suitable for day visitors
Parking spaces
usually enough available, covered car park, tarmac car park, gravel car park
for a fee
Roads
Side road, Mountain road
Snow chains sometimes required by snowfall
Road closure due to avalanches unlikely
Show route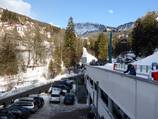 ---
36 km Distance - approx. 36 Minutes driving time
Destination
Saslong
Strada Ruacia 26, 39048 St. Christina, Italy
Ideal entry for day visitors
Parking spaces
usually enough available, tarmac car park, gravel car park
for a fee
Roads
Show route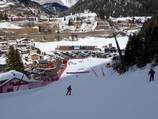 ---
39 km Distance - approx. 39 Minutes driving time
Destination
SS242, 39048 Wolkenstein, Italy
Entry suitable for day visitors
Parking spaces
limited amount available, underground car park, tarmac car park
for a fee, € 5,- / per day
Roads
Side road, Mountain road
Snow chains sometimes required by snowfall
Road closure due to avalanches unlikely
Show route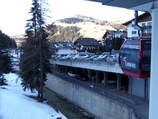 More Entry point(s) to the ski resort
---
---
---
---
---
---
---
---
Access to ski resort
Town/village close to ski resort
Traffic Junction
---
All information is supplied without guarantee
The maps are provided by Google with the following information: "These directions are for planning purposes only. You may find that construction projects, traffic, weather, or other events may cause conditions to differ from the map results, and you should plan your route accordingly. You must obey all signs or notices regarding your route."
---
Feedback for the Skiresort.info Team? Please use
this form »
Test Reports

---

---
All test reports