Ski resorts Salzburger Sportwelt
List and map of all 9 ski resorts in the Salzburger Sportwelt
---
Located in the centre of Ski amadé, the Salzburger Sportwelt boasts perfect conditions for unrivalled skiing fun. It is therefore no wonder that many professional skiers come from the region and that the region is chosen to host major skiing events time and again. All Salzburger Sportwelt ski resorts offer the most modern lifts and cable cars, snow guaranteed to the greatest possible extent, well-groomed pistes and varied slopes for all levels of proficiency.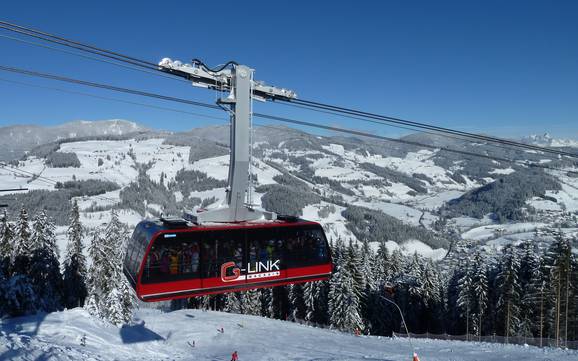 Skiing in the Salzburger Sportwelt
The World Cup resort of Flachau is well known for wide and perfectly groomed pistes, as well as for easy accessibility; Zauchensee, also known as a World Cup venue, is popular due to its altitude with guaranteed snow and as a challenging free ride area. Within the Flachau-Wagrain-St. Joahnn-Alpendorf 3-valley ski link, Wagrain stands out with the two legendary ski mountains of Grafenberg and Grießenkareck and WAGRAINi´s Winterwelt, while the Geisterberg and the Betterpark adventure invite you to have fun in St. Johann-Alpendorf. The Flachauwinkl-Kleinarl shuttle mountain offers loads of action in Absolut Park, which is one of the biggest snow parks in Europe and includes the Super Pipe and the Chill House. Among the clearly laid out family ski resorts and the home territory of current ski stars are the Radstadt-Altenmarkt ski link and the Monte Poplo in Eben and Filzmoos, which are totally geared towards enjoyment. All in all, The Salzburger Sportwelt is a region not only where winners are at home, but also where they go to ski.
Highlights in the Salzburger Sportwelt
In the list of the best ski resorts in the Salzburger Sportwelt, the ski resort Snow Space Salzburg – Flachau/Wagrain/St. Johann-Alpendorf is top with 4.5 out of 5 stars. The largest ski resorts offer up to 120 kilometres of slopes (Snow Space Salzburg – Flachau/Wagrain/St. Johann-Alpendorf). The highest ski resorts for skiing in the Salzburger Sportwelt extend up to an altitude of 2,176 metres (Zauchensee/Flachauwinkl). And our tip for the best value for money is the ski resort Snow Space Salzburg – Flachau/Wagrain/St. Johann-Alpendorf.
---