Ski resorts Davos Klosters
List and map of all 10 ski resorts in Davos Klosters
---
In the middle of the Alps, surrounded by breathtaking mountain vistas and an idyllic winter landscape you find Davos, the city with the highest altitude in Europe (1560 meters a.s.l.) as well as the typical mountain village of Klosters, with its picturesque chalets (1200 meters a.s.l.).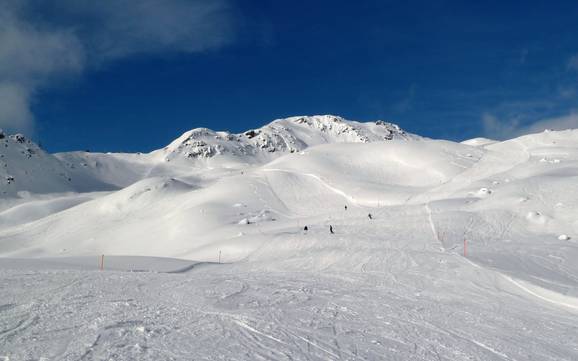 Skiing in Davos Klosters
The two resorts are connected by the five ski areas of the Davos Klosters Mountains. With its 80 ski slopes and 269 km of down-hill runs, Davos Klosters Mountains is one the Alps' largest ski areas. Skiers, carvers, snowboarders, freestylers and free riders - in other words - all snow sport enthusiasts will have their winter sport expectations met, with the most beautiful and exciting winter sport experience. From the superpipe on Jakobshorn, the carving slope on Parsenn to the unforgettable freeride runs on Pischa as well as the kids' parcours on Madrisa and Rinerhorn. From après-ski parties on Jakobshorn, to cosy wooden terraces on Parsenn or Pischa, the easy-going snow bar on Madrisa or to a romantic candlelight dinner on Rinerhorn, Davos Klosters Mountains offers something for everyone.
Highlights in Davos Klosters
In the list of the best ski resorts in Davos Klosters, the ski resort Parsenn (Davos Klosters) is top with 4.2 out of 5 stars (equal rating: Jakobshorn (Davos Klosters)). The largest ski resorts offer up to 96 kilometres of slopes (Parsenn (Davos Klosters)). The highest ski resorts for skiing in Davos Klosters extend up to an altitude of 2,844 metres (Parsenn (Davos Klosters)). And our tip for the best value for money is the ski resort Jakobshorn (Davos Klosters).
---
1
-
10
out of
10
ski resorts
1
-
10
out of
10
ski resorts