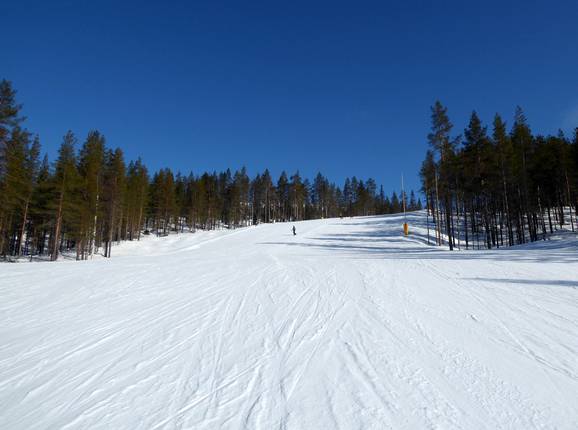 Runs/​ski slopes Levi

There are slopes of all difficulty levels in Levi. The majority of the slopes are easy and intermediate. But experts can look forward to lots of thrills on the difficult slopes too. Skiers can enjoy beautiful panoramic views over Lapland and the frozen lakes from the slopes. As it barely gets light during the winter months, most of the slopes can be floodlit.

Runs/slopes
Total: 38.5 km
| | |
| --- | --- |
| Easy | 17.5 km |
| Intermediate | 18.1 km |
| Difficult | 2.9 km |
Worth knowing
Artificial snow-making
312 Snow cannons
70 % of the slopes have snow-making capabilities
Valley run available
Valley runs lead to all entry points in the ski resort of Levi.
Run location
just above tree line
under tree line
Longest run
Slope 7.4 - 7B3 - 7B2 · Length 2.5 km · Elevation difference 325 m
Most difficult run
World Cup slope G.2 · Length 1 km · Elevation difference 300 m
Slope tip
World Cup slope G.2
Taalo 6.2
Tieva 10.2
Snowparks
Snow park/Fun park
No halfpipe
Highlights
Public race course with time measurement - free of charge
e-tron Race Track at slope 2.1. at the Front Slopes
Additional Offerings
Alpine Training Park Levi
---
Feedback for the Skiresort.info Team? Please use
this form »
Test Reports

---

---
All test reports