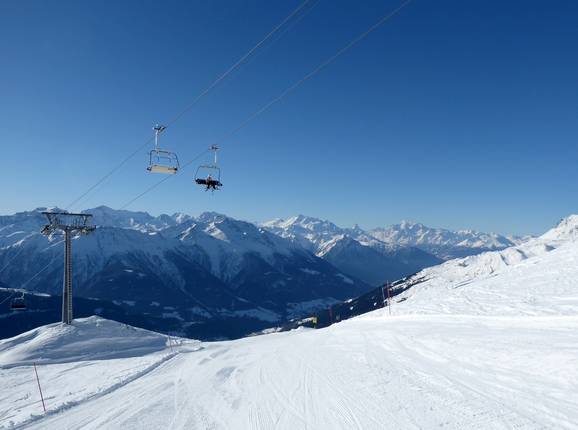 Skiing Bellwald

The ski resort Bellwald is located in Goms (Switzerland, Lemanic Region, Valais (Wallis)). For skiing and snowboarding, there are 20 km of slopes available. 5 lifts transport the guests. The winter sports area is situated between the elevations of 1,600 and 2,558 m.
Bellwald is situated on a sunny plateau in the Valais Alps at 1,600 metres. It is the highest community in Goms. A cable car runs up to Bellwald from the village of Fürgangen. The impressive peaks offer a varied range of winter sports activities and wide slopes for skiing. The winter sports resort of Bellwald is a certified "Families Welcome" holiday resort. Particular attention is paid to younger visitors in the ski resort of Bellwald.
Test report
3.8
Ski slopes »
Total: 20 km
| | |
| --- | --- |
| Easy | 10.5 km |
| Intermediate | 7.8 km |
| Difficult | 1.7 km |
Ski lifts »
Snow report »
Operating times
Current season:
2023-12-16 - 2024-04-07
General season:
mid December - early April

Opening times:
09:00 - 16:15
Note: The openening times are provided by the ski resort Bellwald and can vary based on external conditions, day of the week, school holidays and public holidays.
Feedback for the Skiresort.info Team? Please use
this form »
ski resort Bellwald
Further interesting ski resorts
---
---